On September 29th, Governor Brown signed a long-anticipated package of 15 housing-related bills, as summarized in our prior post, "California Legislature Passes Historic Housing Legislation in Effort to Tackle State's Housing Crisis" (9/22/17). Collectively, these bills constitute the legislature's farthest reaching action in years to address California's ongoing housing crisis.  Though the bills are expected to make only a small dent in California's annual shortage of new housing stock, they are, at the very least, a resounding acknowledgment that the state's housing crisis requires action at the highest level.  This post highlights AB 1505, also known as the "Palmer Fix".
AB 1505 restores the authority of cities and counties to require the inclusion of affordable housing in new rental housing projects, thereby superseding the 2009 decision of Palmer/Sixth Street Properties, L.P., et al. v. City of Los Angeles (2009) 175 Cal.App.4th 1396.
In Palmer, the Court of Appeals struck down a City of Los Angeles ordinance that imposed an inclusionary affordable housing requirement on residential and mixed use projects of more than 10 dwelling units per lot.  The Court of Appeals affirmed a superior court decision that found that the ordinance in question, as applied to Palmer's proposed project, conflicted with and was preempted by the vacancy decontrol provisions of the Costa-Hawkins Act, which allows residential landlords to set initial rent levels at the commencement of a tenancy. Id. at 1399.  The Court of Appeals found that "forcing Palmer to provide affordable housing units at regulated rents in order to obtain project approval [was] clearly hostile to the right afforded under the Costa-Hawkins act to establish the initial rental rate for a dwelling or unit."  Palmer, 175 Cal.App.4th at 1411.
AB 1505 was drafted in response to Palmer and authorizes the legislative body of any county or city to adopt ordinances that require, as a condition of development of residential rental units, that the development include a certain percentage of residential rental units affordable to moderate income, lower income, very low income, or extremely low income households or by persons and families of low or moderate income.  AB 1505 requires cities and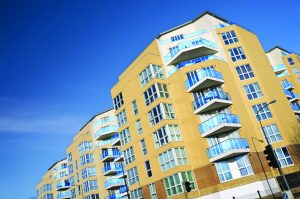 counties to provide for alternate means of compliance that may include in-lieu fees, land dedication, off-site construction, or acquisition and rehabilitation of existing units.
In addition, in cities or counties that (i) have not submitted their annual housing element reports or (ii) are  not meeting at least 75 percent of their regional housing needs allocation (RHNA) for above-moderate income housing, AB 1505 authorizes the California Department of Housing and Community Development (HCD) to review any ordinance adopted or amended after September 15, 2017, that requires more than 15 percent of the total number of units in a rental housing development to be affordable.  Pursuant to such review, HCD may require an economic feasibility study meeting specified standards to establish that the inclusionary ordinance does not "unduly constrain" housing production.  If the city or county does not submit the study or HCD finds that the study does not meet the standards, AB 1505 requires the city or county to reduce its rental inclusionary requirement to 15 percent.
Notably, in 2013, Governor Brown vetoed AB 1229, a bill similar to AB 1505, under the rationale that inclusionary housing policies generally make it harder to attract development to low- and middle-income communities.  In his veto message, Governor Brown stated that he was awaiting the California Supreme Court's decision as to when a city may insist on inclusionary zoning in new developments before taking action in this area.  That decision came in June of 2015, with the ruling in California Building Industry Association (CBIA) v. City of San Jose, (2015) 61 Cal.4th 435, which upheld a residential inclusionary zoning ordinance by the City of San Jose.  In the CBIA case, the Supreme Court concluded that a requirement that a developer sell 15 percent of its on-site for-sale units at an affordable housing price does not constitute an exaction under the Nollan/Dolan line of decisions. Id. at 461. As a result, a municipality need not demonstrate that an essential nexus or rough proportionality exists between its requirement and the projected impact of the proposed land use.  Id. at 458, 461. A discussion of this decision and its impact can be found here.
Cox, Castle & Nicholson has extensive experience navigating inclusionary ordinances in cities throughout California. Please contact a member of the Cox Castle Land Use team for more information, and continue to stay tuned to Cox, Castle & Nicholson's Lay of the Land blog for additional in-depth analysis and insights regarding land use issues.